In 2022, WineCare Logistics served over 100+ wineries.
More than 230,000 on-time wine fulfillment orders delivered.
WineCare Logistics Inc
Business Hours: 
24 hour advance appointment required.
WineCare Logistics (WineCare) is a 3PL company providing services to Wineries to fulfill wine orders. WineCare Logistics has been providing customized direct-to-consumer wine shipping services since 2009. If you are looking for cost-efficient shipment of daily orders for Wine Clubs, Tasting Room & eCommerce, you will find WineCare Logistics to be the best among wine fulfillment companies. Wine order fulfillment includes full e-commerce integration with order shipment and inventory tracking.
WineCare Logistics Inc is a Fulfillment Center specializing in Wine, Beer, Kombucha, and other non-alcoholic beverages.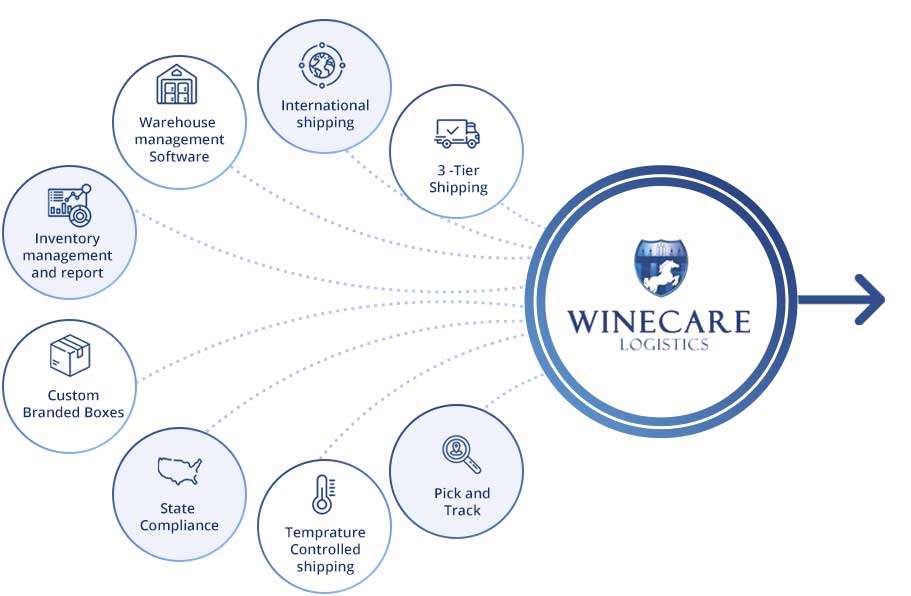 All-In-One
Cloud Based Software
The core of WineCare's software is the order management portal. It's where the magic of managing your customer experience happens. Our out-of-the-box integrations sync with your sales channels to eliminate manual importing of data and trigger all the necessary notifications to your end-customer. Track the status of each order from the moment they are placed to the minute they land on your customer's doorstep.
Orders are processed daily for same day shipping by 9am* . Orders are imported from your website, POS system or Compliance software via API. Order details are all in your online portal and have a lifecycle report stating when it was uploaded to carrier shipping details.
We offer multi carrier platform to ship out your orders and help with state compliance for Wine, Sprits and Beer. During summer and winter time we offer Temperature control shipping all over USA and door to door white glove services.
50,000+ sq/ft Temperature control warehouse space to keep the product cool. Warehouse locations in both east coast and west coast to help with bi-coastal shipping.
*depends on complexity and QTY