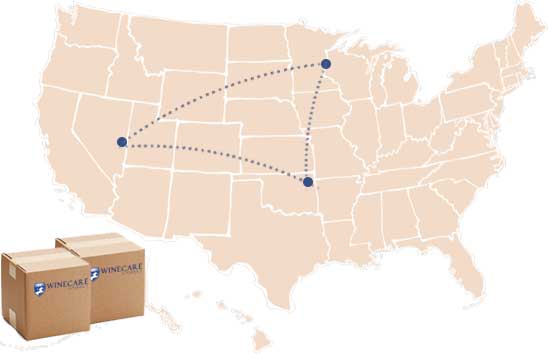 One day turnaround shipping time bi-coastal
Market Access
Ship to More States: Our 3-Tier network provides access to more states.
State Coverage: Our extensive network is currently available in many states expansion into additional states such as MA, NJ, OH
Bicoastal Shipping
1. Gain a Competitive advantage
2. Avoid Heat hold storage and loosing customers
3. Trucks leave every 2 weeks for inventory replacement
4. Refrigerated trucks for temperature control
5. Online inventory system to order from inventory from both warehouses.
6. Put inventory closer to your customers to faster fulfillment
International
Why ship wine internationally?
Well besides your company making more money, its easier and profitable now to ship worldwide. Enjoy the support and versatility provided by experienced logistics company in global environment.
Handling international custom information
Unlike other fulfillment house we have a dedicated staff for international wine shipping.
Turn our Advantages into yours
These days the business world spins faster than ever. And getting more value from your business partners has never been more critical. Rely on our network for which can reach customers you never thought possible. Consider how your business could benefit from a company offering outstanding reliability with greater speed and more service options.
Simplified Pricing
With rates of 1,2,6 & 12 pack on your hands it will be easier for your tasting room to quote these international rates. Rates defined by country, #bottles allowed and custom information*
Carbon Neutral Program:
We have joined hands with UPS to reduce our Carbon footprint for as little as $0.08/per package. Which includes shipping and packaging.
Ask for details on how you can join this program. Below are some details about the UPS program.
Arbor Day Foundation
Enroll in our Green initiative with Arbor Day Foundation and every shipment you ship out will contribute to growing trees. At the end of the year you will get a summary of how many trees your winery planted and a certificate of appreciation.
UPS Carbon Neutral Shipping
Gain more control over your climate impact with UPS carbon-neutral shipping, a UPS shipping service that offsets the carbon dioxide (CO2) associated with the packages it transports.
For more information click on: http://www.carbonneutral.ups.com/
Less Paper Initiative
With the online system and integrated packaging slip, we are reducing 70% of paperwork.
GSO Trade Ground services
Using Golden State overnight for California orders going to businesses that don't require packaging materials.
WinCare Logistics will use custom-branded wine shipping packaging for your orders. Brand awareness is one of the most crucial steps in marketing your business. We will work with you to represent your brand the way you want it.