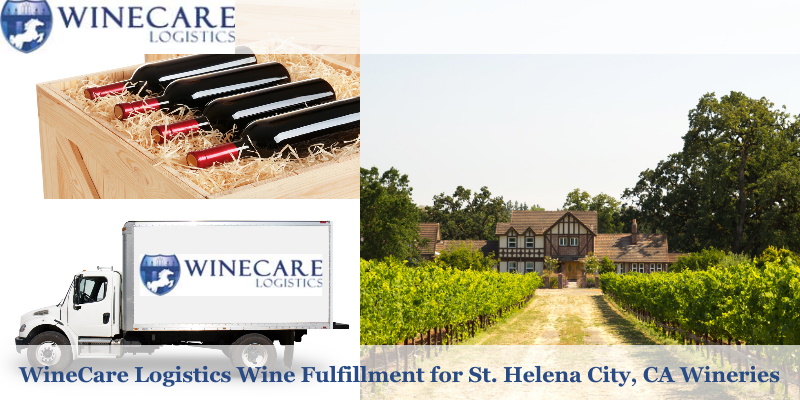 Wine Fulfillment for by WineCare Logistics. Established in January 2009, We have over 13 years of experience shipping wine for wineries in Napa City and Napa County.
Are you a Winery in searching for a Cost-Effective, Fast, Reliable 3PL Wine Fulfillment & Shipping Company? If so, give us a call today to experience the best in Direct-To-Consumer (DTC) Wine Shipping & Wine Club Services for wineries. Our timely pick up and delivery network at 99.98% success rate is one of the best in the industry.
Why Choose WineCare Logistics for Wine Fulfillment Services and Wine Shipping for wineries in ?
WineCare Logistics is the best choice for your Winery's Fulfillment services in . Here are a few reasons why our Wine Shipping Services are a grade above the rest.
Winecare Logistics has State-of-the-art warehouse facilities in Napa Valley saving you money and time.
For Wineries in , We provide fast nationwide shipping with 1 pm same-day shipping cutoff. Orders that are in by 1 pm, will ship out the same Weekday.
Private Label Wine Fulfillment provides custom winery branding, tissue wrapping, packaging for large formats, stickering, and bottle ID-proof tag tracking.
We offer temperature-controlled shipping for the summer and winter months. WineCare Logistics' wine fulfillment center warehouse is temperature and humidity controlled.
WineCare Logistics offers an expansive 3-Tier network through WorldShipNet. It is trouble-free and your winery will legally get shipping access states that you originally could not ship into.
We are environmentally friendly. Our Napa Valley Wine Fulfillment Center is a Carbon Neutral Shipping offered direct from UPS. Ecologically friendly practices are integral to our paperless facility, thereby increasing energy efficiency and reducing our carbon footprint.
Software Integrations: Our client software portal allows 24/7 online access to order statuses, and inventory reporting. Our software integrations sync with your sales channels. It eliminates any manual importing of data and triggers any appropriate notifications to your end customer. This will provide you with real-time inventory and shipment tracking.
Will WineCare Logistics be able to serve my Direct-To-Consumer (DTC) Wine programs like a Wine Club?
Yes, We have expertise in providing Wine Club Fulfillment Services for wineries in . Our logistics software easily handles Direct-To-Consumer Wine Shipping.
How much does Wine Fulfillment Cost for a Winery in , CA?
Request a Custom Quote using form below:
How often will WineCare Logistics pick up Wine from my Winery in , CA?
Trucks from WineCare Logistics go out every 2 weeks for Inventory replacement from Wineries in , CA.
Are the Trucks employed by WineCare Logistics temperature controlled when they pickup my Wine Inventory from , CA?
Yes, WineCare Logistics uses Refrigerated trucks for temperature control for pickup of Wine inventory from , CA.
With WineCare Logistics, Would a Winery in be able to Ship to all States in the USA?
Our 3-Tier network provides access to states not open for direct shipment. An alternative way to legally ship wine to customers in states that have regulatory requirements without having to maintain permits, licenses, and administrative recourses for reporting and tax preparation.
Obtaining direct ship permits in all 36 states open to wineries can be cost-prohibitive. We offer an alternative that allows you to replace some of those large up-front fees with minimal per-transaction costs.
Would My Winery in , CA be able to Ship Orders Internationally?
Yes. Your Winery from , CA will be able to Ship orders internationally. Our fulfillment house has a dedicated staff for international wine shipping.
How much will International Wine shipping cost to wineries in , CA?
Rates for shipping wine internationally are defined by Country, the number of bottles allowed, and custom information. With rates of 1, 2, 6 & 12 packs on your hands, it will be easier for your tasting room to quote these international rates.
What integrations does Winecare Logistics offers with other shopping and Point of Sale software platforms for Wine Sale?
WineCare Logistics integrates with Shopify, WineDirect, Ship Compliant, Woo Commerce, Commerce 7, VineSpring, Complete DTC and Advanced Management Systems (AMS) software platforms.
What Licenses does WineCare Logistics have for Wine Storage and Shipping Services from Wineries in , CA?
WineCare Logistics has Alcoholic Beverage Control License Type 14 for Public Warehouse in California.
What is a wine fulfillment center?
Wine Fulfillment is the administration of the logistics associated with the shipment of wine. It includes the storing, handling, packing, picking, and delivery of the wine to clients.
About St. Helena City, California
St. Helena is a city in Napa County, belonging to the California Wine Country. It can be found in the North Bay area of the San Francisco Bay Area. St. Helena has rich vineyards and cuisines, and is the location of the St. Helena American Viticultural Area (AVA) covering 9, 060 acres (14 sq mi) of Napa Valley. St. Helena also houses The Culinary Institute of America at Greystone and a campus of Napa Valley College.
What is the history of St. Helena, California?
The Wappo Indians were the first people in the area of St. Helena from 2000 BC to 1823. St. Helena was also known as "Anakotanoma", a Wappo term that means " Bull Snake Village". The modern name of St. Helena came from the nearby mountain, Mount St. Helena.
St. Helena, California grew in popularity with the White Sulphur Springs in 1848 and later the development of a resort in 1852. In the late 19th century, San Franciscans arrived via steamer across the Bay, then via train in St. Helena.
Henry Still established the town of St. Helena in 1855 upon purchasing the land from Edward Bale. 1858 saw the birth of a schoolhouse and Baptist church in St. Helena. In 1868, St. Helena's first railroad was erected and enabled transportation of fruit and mining produce, as well as newcomers.
The home of Seventh-day Adventist Church co-founder, Ellen White, called Elmshaven near St. Helena is now a National Historic Landmark. The Beringer Vineyards and the Charles Krug Landmark in St. Helena are California Historical Landmarks.
St. Helena, California was first incorporated on March 24, 1876 and then re-incorporated on May 14, 1889.
What is the geography and climate of St. Helena, CA?
St. Helena, CA has a total area of 5.03 square miles (13.0 km2) where 4.99 square miles (12. 9 km2) is land and 0.11 square miles (0.3 km2) is water. St. Helena is the center of the St. Helena AVA which covers 416 vineyards and serves as a bustling host for the wine industry. Also known as "Napa Valley's Main Street", St. Helena, CA is home to a collection of shops, boutiques, art galleries, cafes and historical landmarks.
The climate of St. Helena consists of cool and winters, with summers that are hot during the day and cool at night with minimal precipitation. The warm season is from June to October while the cold season is from November to February.
The zip code of St.Helena, CA is 94574.
What is the population of St. Helena?
As of the 2010 United States Census, St. Helena had a population of 5, 814 comprising of:
White (77.8%)- 4, 525
Hispanic or Latino (32.9%)- 1, 914
Other races (16.8%)- 978
Two or more races (2.5%)- 144
Asian (1.7%)- 98
Native American (0.6%)- 35
African American (0.4%)- 25
Pacific Islander (0.2%)- 9
How to get around St. Helena?
The St. Helena Shuttle services specific routes within the city during weekdays. Tour services are also options to explore the city of St. Helena:
Perata Luxury Tours Napa & Sonoma
Marvin TownCar Services
Napa Valley Tours & Transportation
Sonoma Sterling Limousines
Napa Sonoma Wine Tasting Driver
Apex Limousine Transportation and Wine Tours
Napa Valley Chauffeur
Elite Excursions
Babe's Transportation
Why is St. Helena famous?
Though a small city in Napa County, St. Helena is home to world-renowned wineries and is a top wine-tasting destination.
St. Helena wine tours to choose from are California Wine Tours, Napa Sonoma Wine Guy, Napa Valley Bike Tours, Napa Valley Wine Train and Platypus Wine Tours.
Top wineries to discover are Beringer Vineyards, Beaulieu Vineyard, Long Meadow Ranch, Sutter Home Family Vineyards, Trinchero Napa Valley, Brasswood Cellars, Cliff Family Winery, Merryvale Vineyards, HALL St. Helena, Charles Krug Winery, and Crocker & Starr Wines.
St. Helena restaurants to satisfy the palate are Acacia House by Chris Cosentino, Farmstead at Long Meadow Ranch, The Restaurant at Meadowood Napa Valley, Terrace cafe at Meadowood Estate, Harvest Table St. Helena, Gillwoods Cafe, and The Model Bakery.
Discovering art in St. Helena can be done by visiting AERENA Galleries & Gardens, Arader Galleries, Caldwell Snyder Gallery, Christopher Hill Gallery, MEUSE Gallery St. Helena and Nimbus Arts.
St. Helena also offers many parks for outdoor activities- Bale Grist Mill State Historic Park, St. Helena Crane Park, Lyman Park, Mary Fryer Park, Mennen Park, and Moore Creek Park.